A New Reality for Online Education
Picture this: You're walking through an organic chemistry lab on NC State's campus. You put on your safety goggles and follow the professor over to a whiteboard, checking out the equipment around you along the way.
A pretty standard student experience, right? It would be, except for the fact that you're actually sitting at your kitchen table in front of your laptop.
Thanks to immersive technology experiences developed by DELTA (Distance Education and Learning Technology Applications), online students can receive all the benefits of being on campus — and, in many cases, even more.
For instance, that chemistry lab whiteboard is actually a graphic that DELTA multimedia designers included to enhance the learning experience. It's loaded with information that wouldn't necessarily be available to students actually in the lab. Especially those stuck in the back of the group who might not be able to hear or see well.
Immersive technology is not new, according to DELTA Creative Director Mike Cuales, but it's taking off for education. Big time.
"The concept of wanting to transport people to other locations and other times has existed for centuries," he says. "What we're seeing is this interesting evolution over time. As computing power increases, as optics in resolution become more refined and as the hacker/maker space really kicks into high gear, anybody with an idea can build a product. Virtual reality technologies are more accessible and more dynamic than ever."
There are all sorts of immersive technologies housed under the term "X Reality" or "XR" — augmented reality, mixed reality, virtual reality and more. It can be confusing, Cuales says, but they all point to the same end goal: placing users in a unique experience outside of their actual reality.
Cuales and his team adapt these technologies for NC State faculty to use for instruction because "giving students a sense of presence and a sense of being is really important to learning," he says.
Like a kid in a candy store, he says tinkering is the fun part.
"We have this augmented reality headset. … Stick your phone in this device and it projects an image through a mirror," he says. "It has one purpose, which is to fight with a lightsaber, but maybe we can take it apart and build an instructional device through reverse engineering.
"We're having a blast, challenging the market and challenging the technology as it emerges and trying to think differently about how we can take this thing that was clearly built for entertainment and see how can we use it for student learning."
The DELTA projects run the gamut of subject matter areas, and innovation is the name of the game.
In one example, Cuales and the DELTA team scanned the entire five-story NC State Feed Mill with a camera system called Matterport to demonstrate to students how a feed mill is constructed. But the result ended up being much better than they'd imagined.  
"We wanted to simulate a tour, but we wound up doing a more comprehensive tour than any student would typically get in that feed mill because we went into every corner of the entire structure, and we actually built a three-dimensional model," Cuales says. "Now students and visitors can come away with an intimate knowledge of the feed mill without even setting foot inside."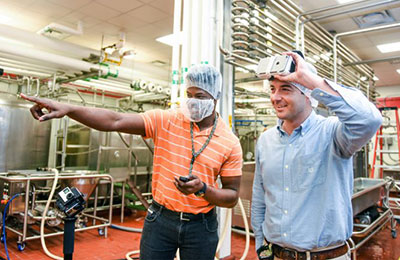 Another early adopter of immersive technology is the Department of Food, Bioprocessing and Nutrition Sciences. Cuales and the DELTA team worked with Assistant Professor Clint Stevenson and his team to create virtual food processing facility environments.
Designed to educate students and employees about food safety, the interactive 360 VR video will enable users to conduct an inspection with an NC State Extension agent, swabbing equipment and interacting with the environment as if they're right there. In this case, creating virtual immersive content is just one piece of a larger puzzle, Cuales says.
"They're exploring ways to integrate immersive technology into case studies to make them more natural and realistic, which is much more impactful than reading words on a page or listening to a lecture," he says. "We're doing all sorts of measurements behind the scenes to cater to and follow a learner as they grow."
Accessibility is key, so many of Cuales' projects don't require fancy equipment and can be accessed through desktop, laptop or tablet. Of course, the experience is better with a headset, but the educational outcomes aren't compromised without one.
The sky's the limit for immersive technology, Cuales says. He jokes about the blurring of the lines between reality and virtual reality, conjecturing that as the technology evolves, we might "live" in both realities in equal measure.
"It's exciting and thought-provoking," he says. "I can't wait to see what's next for online and distance education."
Interested in getting in on the action? Check out the DELTA grants program, which provides opportunities for developing new courses that apply immersive technology. DELTA and NCSU Libraries also are hosting an Immersive Playground at D.H. Hill Library on Friday, Nov. 9, that invites visitors to explore all sorts of emerging technology.
This post was originally published in NC State News.