Developing Immersive Learning Technologies with DELTA Grants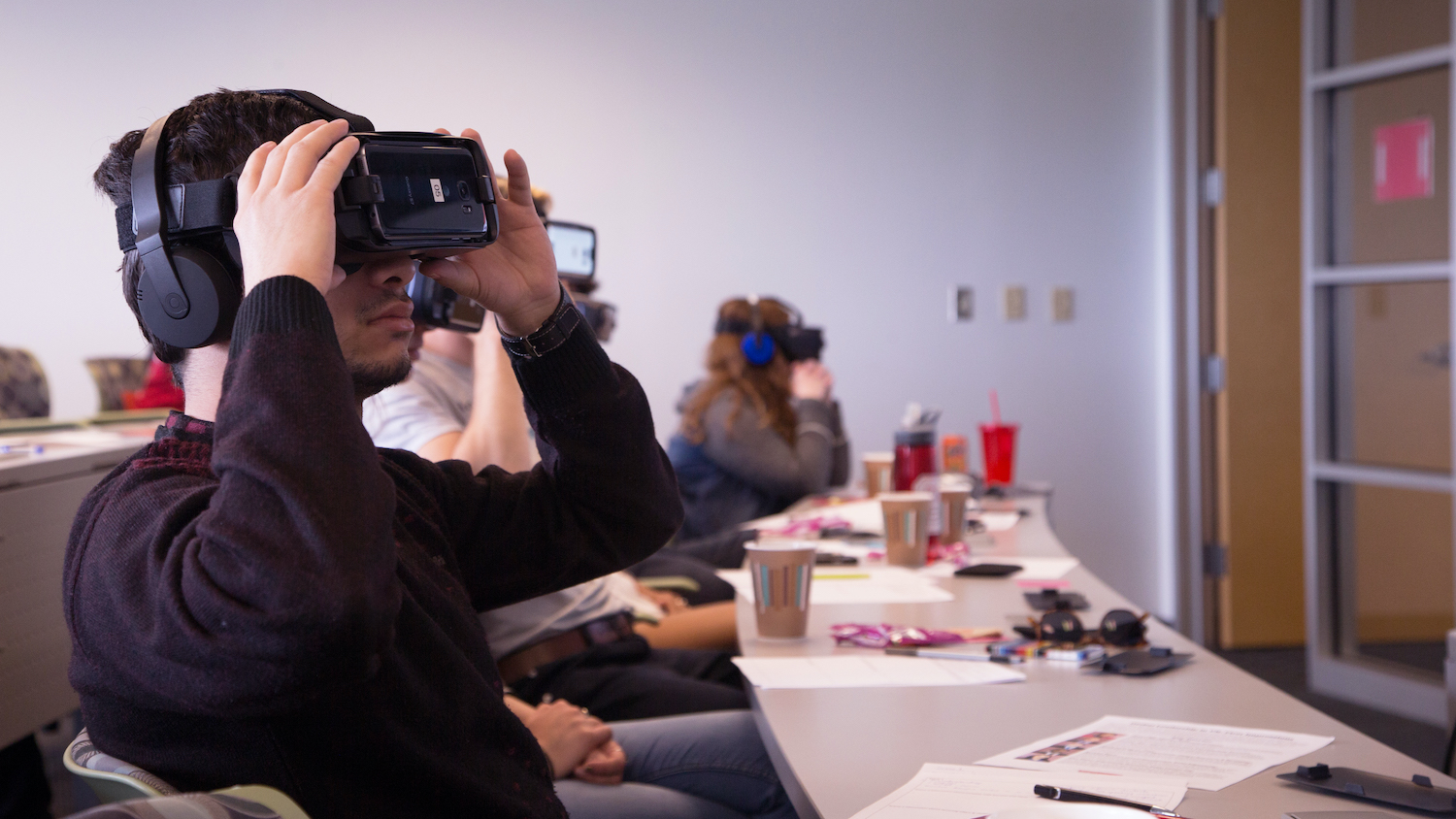 DELTA has helped faculty develop and innovate various immersive technologies through DELTA Grants to provide NC State students with a new level of engagement in their courses. We're looking at the ways DELTA staff and NC State faculty have collaborated on a variety of projects to incorporate virtual reality, augmented reality and learning applications in NC State courses.
In 2018, a team of DELTA and Global Training Initiative (GTI) staff collaborated to create the First Impressions Virtual Reality Module, which allows students to use virtual reality headsets to practice their global leadership skills. With the help of the virtual reality module's features, students participate in two virtual reality scenes to work with a global team on a project and converse with a variety of people with varying cultural backgrounds in a simulated experience.
DELTA staff and NC State faculty worked together to create an app for CH 224: Organic Chemistry II Lab to provide streamlined, engaging and effective supplemental instruction, giving students a deeper understanding of Nuclear Magnetic Resonance (NMR). The app uses interactive augmented reality features that allow students to participate in chemistry labs in a more immersive way therefore improving learning outcomes of the course. The team made use of Vuforia AR, NMR MoleculAR, Unity3D, Maya, Illustrator, Photoshop, Git and various other technologies to aid students' visualization of molecular structure and related chemical properties.
VMP 991-162: Global Health Challenges has made use of virtual reality to give students the chance to identify health risks and learn more about farming culture in Ethiopia. Considering VMP 991-162 is one week long, virtual reality has improved students' learning during the fast-paced course. The uses of virtual reality in the course allow students to see how milk production and distribution occurs in Ethiopia in a simulated experience.
FM 480: Feed Quality Assurance and Formulation gives students the opportunity to learn about and experience feed milling at NC State. DELTA staff have innovated augmented reality tools to give distance education students the opportunity to tour a feed mill while learning online. By recreating feed mill machinery and processes in augmented reality, distance education students were able to get the most out of the course in an online format.
Using virtual reality, a team of DELTA staff and faculty have created immersive experiences for students in CH 222: Organic Chemistry I Lab. The team used a GoPro Fusion 360° camera and immersive graphics to emulate a face-to-face experience in organic chemistry labs. By using a first-person point of view and simulated instructor, the team was able to limit distraction and provide clear lab instructions for students. This project gave students who cannot attend labs in person the chance to experience realistic virtual organic chemistry labs.
Aspiring teachers that are seeking experience in Individualized Education Program (IEP) meetings might have difficulty finding the opportunities to participate in these meetings. A virtual reality experience was developed for students in EC 416: Teaching Exceptional Students in the Mainstreamed Classroom to simulate the experience of IEP meetings. This was made possible by the use of browser-based 360° video, PlayPosit and professional actors. The virtual reality implemented in the course provides the closest alternative to in-person meetings and gives students the chance to make mistakes and learn from them.
DELTA staff and faculty have developed an augmented reality app for GD 303: Graphic Design Theory and Practice to enhance the textbook for the course. The standard textbook for this course was not engaging for students that were attempting to learn graphic design theories. To make the course concepts more intriguing, the team developed the app to include a virtual docent to give students a virtual tour, interactive pop-up pop quizzes, and augmented reality magnifying glass and other engaging features.
Interested in DELTA Grants Opportunities?
DELTA Grants have allowed faculty at NC State to not only conceptualize ways of incorporating immersive technology in their courses but actually develop, innovate and implement these tools for students. DELTA plans to continue collaborating on these projects to provide students with meaningful experiences throughout their studies.
Faculty participating in this year's DELTA Grants cycle may have the opportunity to further explore use cases for Virtual Lab tours, similar to the work completed for the College of Engineering, through an engagement grant. Virtual Tours are produced using advanced laser scanning and 360 imaging techniques, then deployed through the University's Matterport platform. Lab tours are typically used for student orientation, instruction, outreach and safety training.
Visit https://delta.ncsu.edu/course-planning/delta-grants/ for more information about grant types or https://delta.ncsu.edu/course-planning/delta-grants/important-dates/ for important dates.
If you have questions, visit https://delta.ncsu.edu/course-planning/delta-grants/delta-grants-faqs/ or contact deltagrants@ncsu.edu.