Earning a Promotion while Enrolled in Online Master's Program, Commencement is the Icing on the Cake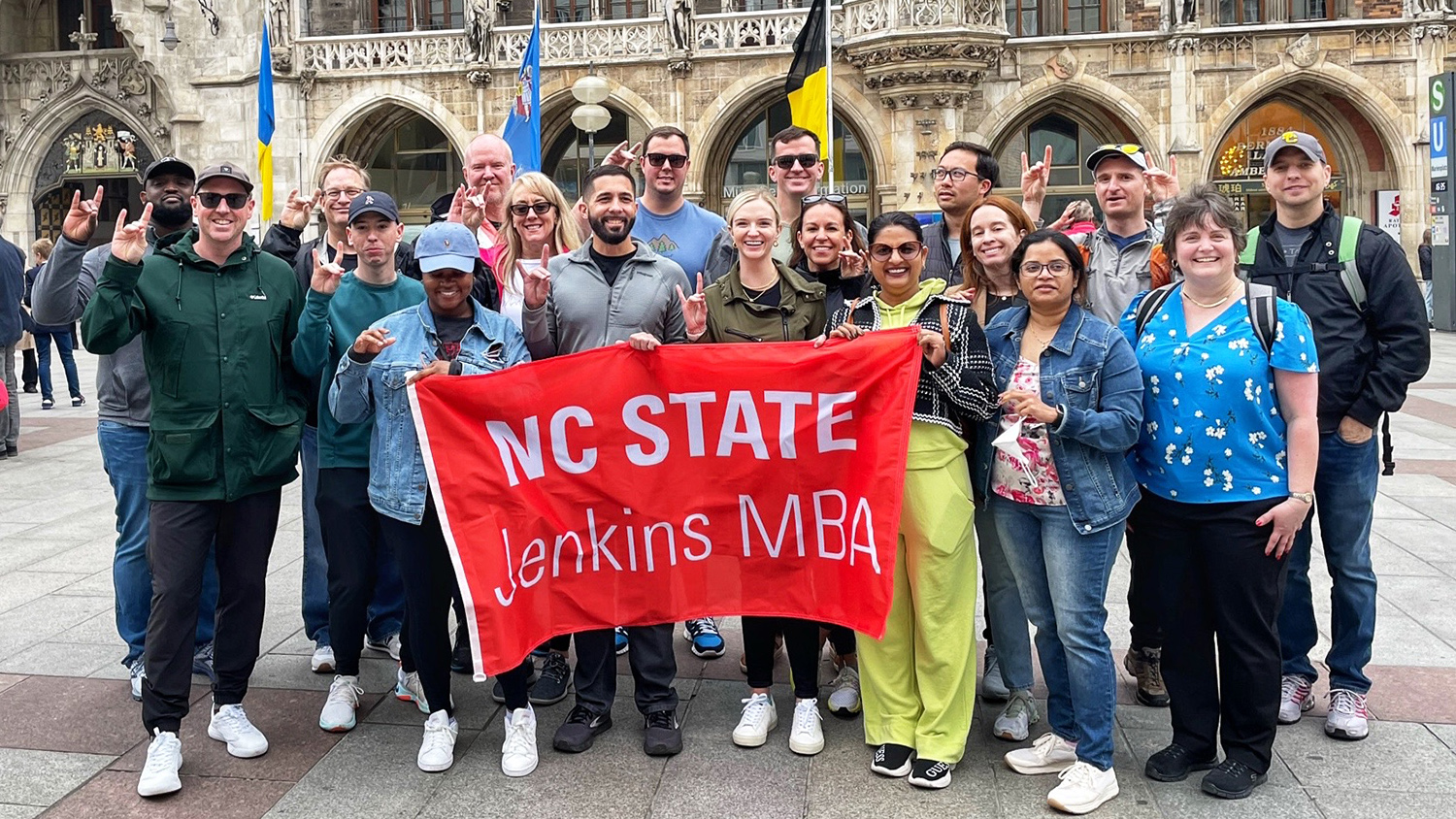 Christa Langenburg never imagined she would stumble upon the perfect master's degree program for her while scrolling through LinkedIn three years ago. When she saw an advertisement for the NC State Poole College of Management's Master of Management with a concentration in Marketing Analytics (MMA) program, she decided to learn more about this niche offering.
"Having an online analytics program available to me during the COVID-19 pandemic was an answer to my prayers," Langenburg said. "Additionally, the MMA program is much smaller and requires fewer credits than the MBA program, which allows for a greater sense of community. So, I enrolled in the fall of 2021."
While Langenburg was in the first year of the MMA program, she transitioned into the role of Data Analyst at Hitachi Energy.  Halfway through the program, she completed a one-week study abroad course with MBA students in Munich, Germany.  The experience of visiting seven different companies and hearing first-hand of some of their business challenges was remarkable.
"NC State made pursuing a master's degree feasible for me at a juncture where I unexpectedly had extra time," Langenburg said. "During the COVID-19 shutdown, I was working remotely, which allowed me to save time each day that would have been spent commuting to the office. This extra time provided an opportunity for me to finally pursue my master's degree — which was a godsend."
Online Learning Atmosphere and Support
Langenburg believes online programs make accomplishing higher education goals achievable for working professionals. And, she suggests maintaining an open mind to all the content delivery options offered to maximize learning opportunities.
"I highly recommend taking online courses and incorporating hybrid learning into your education," Langenburg said. "The times I was able to meet in person with my classmates or professors were much more effective. Collaboration, I found, is essential to learning in a master's program. Also — you get what you give — so find time to share your knowledge with your team or classmates and you will be rewarded!"
As she worked her way through the program, she found balancing her work, academic and personal life was challenging. One of her classmates offered some advice to help her form a strategy to more effectively manage all the demands on her time.
"A classmate recommended exercising or taking a short nap after work and before starting my evening studies in order to help me prepare to focus," Langenburg said. "In addition, after tucking my children into bed each night, I would categorize my work into 'buckets' to break down larger projects into smaller chunks. This process helped me the most in managing my workload so that I would not be overwhelmed."
As for the faculty members she worked with while enrolled, Langenburg felt welcomed and supported.
"Allison Anthony was instrumental in making our first MMA course feel a part of something bigger than ourselves," Langenburg said. "Allison Anthony and Associate Professor Rishika Rishika maintained an open-door policy throughout my studies, which was both encouraging and comforting."
In addition, she found Assistant Professor Shawn Mankad and Professor of Practice Ericka Kranitz had "relatable teaching styles that were very engaging from the onset." She describes their course content as "most applicable" in her current role as a data analyst and also practical for setting future priorities relative to the market. As for inspiration, Langenburg looked to Teaching Assistant Professor Donnie Hale. She plans to "work hard to achieve his level of proficiency" in her work.
Langenburg plans to attend the in-person commencement ceremony with an ulterior motive in mind.
"I will be taking my kids with me to the hooding ceremony as I hope to inspire them to pursue higher education."
Are you interested in advancing your career with a degree from NC State Online? Visit the online.ncsu.edu for a full list of degree and certificate programs.