Transform Your Teaching
Animation. Virtual reality. Gaming. Not your typical teaching tools, right?
While they're certainly unconventional, these instructional technologies — and many others — are revolutionizing learning at NC State.
And they're a big part of all that DELTA offers.
Short for Distance Education and Learning Technology Applications, DELTA integrates technologies into NC State's academic programs — both on campus and at a distance — and coordinates the funding and production of all distance-based credit programs and courses for the university.
DELTA is for "anybody at NC State who teaches or assists somebody who teaches, whether you're faculty, staff or a graduate teaching assistant," says Bethany Smith, associate director of instructional technology training.
You can meet one-on-one with DELTA consultants and instructional designers to develop customized programs and courses (or enhance existing ones), master learning management systems that help keep your classes organized and efficient, discover new ways to market your courses to prospective students — the list goes on.
Not tech-savvy? No worries. Through the LearnTech Help Desk, face-to-face consultations and hands-on workshops, DELTA staff will help you navigate the unknown and get started using technology in your courses, whether they're taught online, in-person or both.
That last bit is key. You don't have to teach online to take advantage of DELTA professional development opportunities. There are all sorts of tools available to improve engagement in the classroom, facilitate communication with students and enhance the in-person learning experience.
"It's easy for faculty and staff to become overwhelmed by all of the online resources available to them," Smith says. "We work with them to choose the best strategies and tools for their particular instructional needs. In a nutshell, our job is to help implement new technologies that ultimately lead to student success."
Free Professional Development
DELTA services are available at no cost to NC State faculty and staff. (Yes, you read that right).
This includes a robust slate of workshops covering everything from how to build effective TA partnerships to getting started with technologies like Zoom and Top Hat. The workshop offerings change each semester, and DELTA posts recordings online for those unable to participate.
Every August DELTA hosts Summer Shorts, a three-day workshop that offers training in instructional technologies, best practices seminars led by faculty from across campus, and fun sessions like the popular "speed-geeking," which, Smith says, "is like speed-dating, but with different technology tools and concepts."
DELTA also offers drop-in open labs at the start of each semester, quick 30-minute online refresher workshops, "Friday Live" video-conferencing discussions, and online self-paced workshops that allow users to learn on their own time.
Convenience is the name of the game, Smith says. "We're trying to meet the needs of faculty and staff on demand."
Quality Assurance
One of DELTA's newer offerings, the Course Quality Program, provides NC State faculty multiple pathways to improve the quality of their online or blended courses.
It's rooted in the principles of Quality Matters (QM), a standards-based program that is specific to higher education, backed by research and nationally recognized as a means to improve course design.
Because the UNC System is an institutional subscriber to Quality Matters, NC State is able to offer QM-based professional development opportunities free of charge to faculty who want to achieve QM recognition or certification.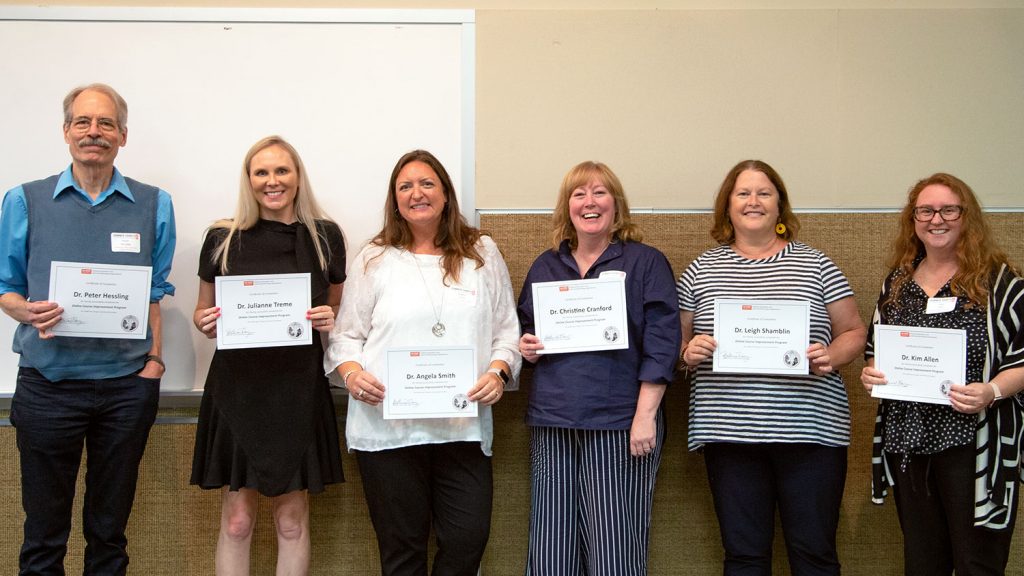 Christine Cranford, a senior lecturer in the Department of English, achieved QM certification for two of her courses last spring.
"Applying Quality Matters standards to English 331 and 332 has created clarity and transparency in my online courses," she says. "DELTA has helped me integrate technologies that create active learning activities that align with a lesson's objectives."
Supporting Your Success
The DELTA Grants program offers six different types of grant opportunities, and all faculty are eligible to apply. Teaching an online or distance education course is not a requirement. In fact, a number of faculty have used DELTA Grants to improve existing classroom courses, especially those with hundreds of students.
DELTA Grants are about much more than financial support. Each grant recipient partners with a team of DELTA experts to collaborate, explore technologies and develop solutions tailored to specific instructional needs.
Grants are awarded on an annual basis, and the next cycle begins May 2020. Be on the lookout for information sessions and group consultations that take place in March and April to help you prepare your proposal.
In a nutshell, DELTA is dedicated to supporting teacher and student success, no matter what that looks like. When it comes to enhancing or building courses and programs with the latest instructional technologies, the sky's the limit.
"DELTA is a valuable campus resource," Cranford says. "The staff have helped me solve small teaching issues as well as achieve larger instructional goals. I encourage anyone teaching to take advantage of DELTA's support and knowledge."
Keep up with the latest DELTA offerings by signing up for the DELTA Connections newsletter and checking out DELTA News.
This post was originally published in NC State News.