EDUCAUSE Annual Conference 2018 Highlights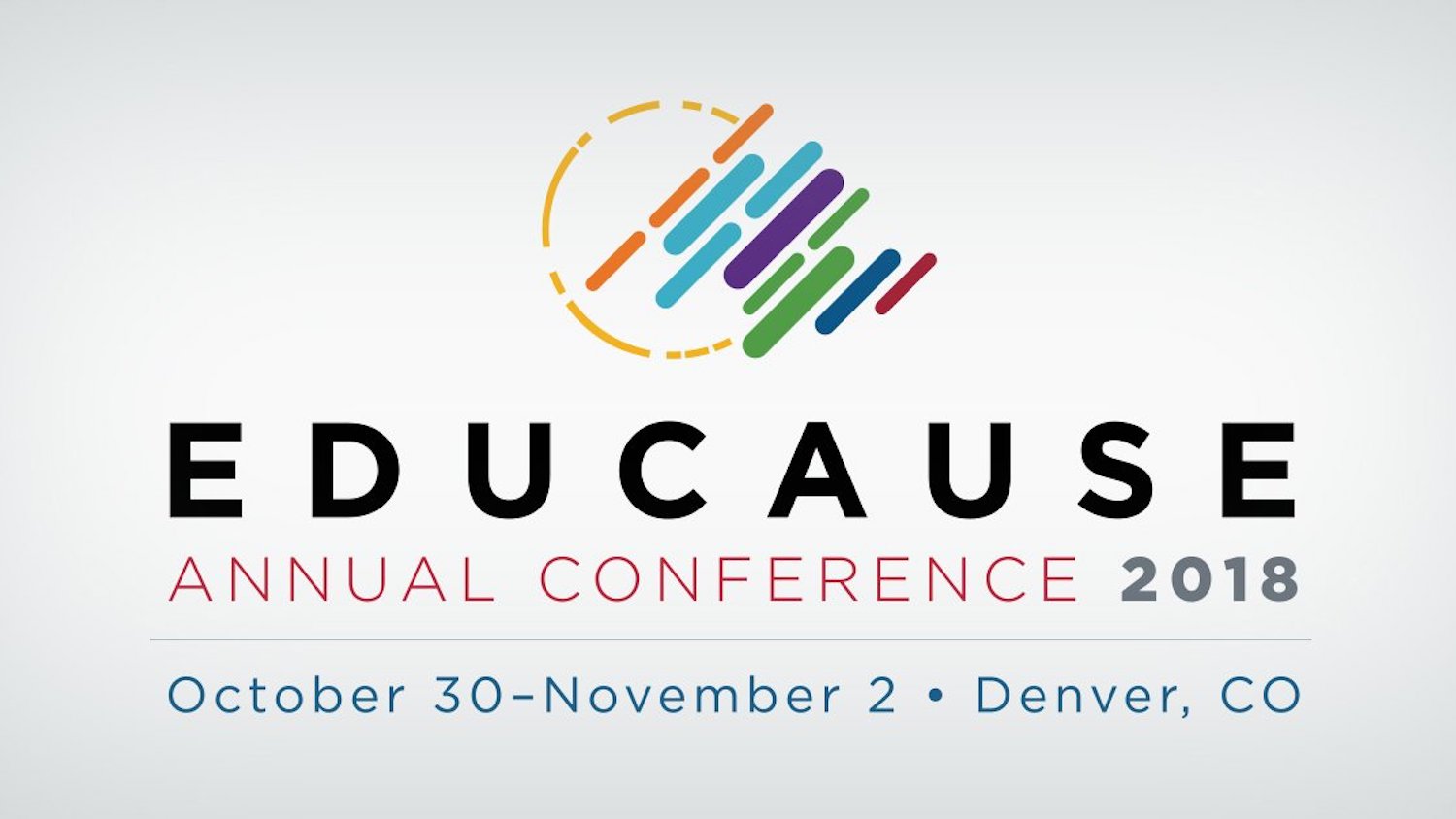 The EDUCAUSE 2018 recap article was written collaboratively and compiled from notes from DELTA attendees.
---
This year's EDUCAUSE Annual Conference was held Oct. 30 – Nov. 2, 2018, in Denver, Colorado.
NC State University was well represented at the conference with 11 DELTA staff members in attendance including Donna Petherbridge, Lou Harrison, David Howard, Martin Dulberg, Arlene Mendoza-Moran, Christopher Beeson, Peter Watson, Jeff Webster, Steve Bader, Cathi Phillips Dunnagan and Jeff Robinson. Colleagues from the Office of Information Technology and various colleges were also in attendance.
"The innovative smorgasbord of thought and technology is what made EDUCAUSE such a petri dish of higher education growth and expansion," said Mobile Media Producer Jeff Robinson. Robinson wrote a detailed debriefing of his EDUCAUSE experience including a few key sessions and his thoughts on how to implement what he learned at the conference in his day-to-day work at DELTA. Read his debriefing here.
EDUCAUSE opened with pre-conference workshops Tuesday, Oct. 30. Cathi Dunnagan participated in Creating Immersive Storytelling Learning Experiences in 360° Video with Maya Georgieva, Director, Digital Learning/XReality Center at The New School, and Emory Craig, Director, eLearning at the College of New Rochelle.
"During the morning, we learned about VR, AR, and MX Reality — the history, the language, the gear, the production. Then, we broke into small groups and talked through possible 360° video VR productions, documenting our discussions on templates developed by the presenters. The first group presented their concept of recording our VR table discussions, moving from table to table. With synergy, our group followed with an interactive tour of the Colorado Conference Center with a focus on Educause. The afternoon was spent applying everything we had learned to creating our projects—shooting, interviewing, and editing our 360° videos," said Dunnagan.
Tuesday night featured a Google Event with speaker Larry Burns who talked to participants about the future of self-driving cars. "More importantly, his talk was about not being afraid to try something new and to be willing to take risks in order to innovate. At the event, there were also some SMART Board® that had a quick draw application; and Cathi was having a really good time with that!" said Petherbridge.
DELTA staff attended additional evening sessions with current partners including a dinner with Top Hat on Wednesday, Oct. 31. The speaker at this dinner, Stacy Morrone from Indiana University, discussed how they were redesigning classrooms at her IU to make them active learning classrooms, and also noted how using the Top Hat tool was an integral part of some of their active learning classroom redesigns. IU has some videos of their faculty talking about instructional tools. They have a great video about how useful Top Hat has been in the classroom.
Wednesday was the official opening day for the conference, with Michele Norris from NPR discussing The Race Card Project. The Race Card Project encourages people to share their feelings about race, in six words. Lou Harrison said it was an inspiring, candid talk about race relations from a very different angle. Her talk was peppered with examples of actual race cards people had filled out. Contributors ran the spectrum from underrepresented minorities to some people you might not expect to participate. Her talk was particularly interesting given the times we live in.
Michele Norris invited everyone to participate in The Race Card Project by writing six words on a postcard or a sticky-note and sharing on the sculpture located in the conference center. Contributions began with a few and continued to grow, filling this sculpture by the end of the conference.
DELTA Presentation
Lou Harrison presented at the Student Success Analytics CG face-to-face meeting on Wednesday at 1:30 p.m. He and a few of the other members of the steering committee met with about 35 interested attendees to talk about what the group does and what it could be for them. They also had an informal continuation of the conversation at a pub on Thursday evening.
Poster Sessions
As always, the conference had a number of interesting Poster Sessions. A few of special interest noted by the team included:
Peter Watson had a particular interest in the poster sessions this year, even more than the scheduled sessions. He added that the poster sessions reminded him of standing meetings at the Kanban board because the poster's got right to the point. The following are a few of Watson's thoughts on significant poster sessions:  
Conference Sessions
The conference featured numerous interesting sessions. Some of the recurring themes in the sessions, as well as in hallway conversations, were around workforce development, major changes in the higher educational landscape and learning analytics. A few of the sessions DELTA staff members attended of note include:
Closing
Friday's closing speaker Alexis Ohanian, founder of Reddit, talked about being entrepreneurial and, as he put it, "making something that people love."  He definitely noted that his own success story began with a "no" and that you have to keep trying! He also emphasized that every single person should learn how to code, because if you can code then you can create something. He was an inspirational way to close the conference.
Donna Petherbridge added, Inside Higher Education posted an article about the conference, "What to Expect When You're Expecting Tech Transformation," on November 5, noting the difficulty faced by those in academic technology who are dealing with rapid change, complex problems and systems, and the need to forge multiple partnerships (both internal and external to the institution) in order to make progress. Quoting from the article, "This is hard to do."  Agreed; we are in an ever-evolving and complex landscape where multiple individuals are being affected by the change. To move positively forward, we must be as collaborate, transparent and forward-thinking as possible. We must be willing to take risks and to carefully assess what works and what does not.
The DELTA attendees agreed this was another great EDUCAUSE Annual Conference and are already looking forward to next year's conference Oct. 14-17 in Chicago.