Checking in with DELTA's Research and Analysis team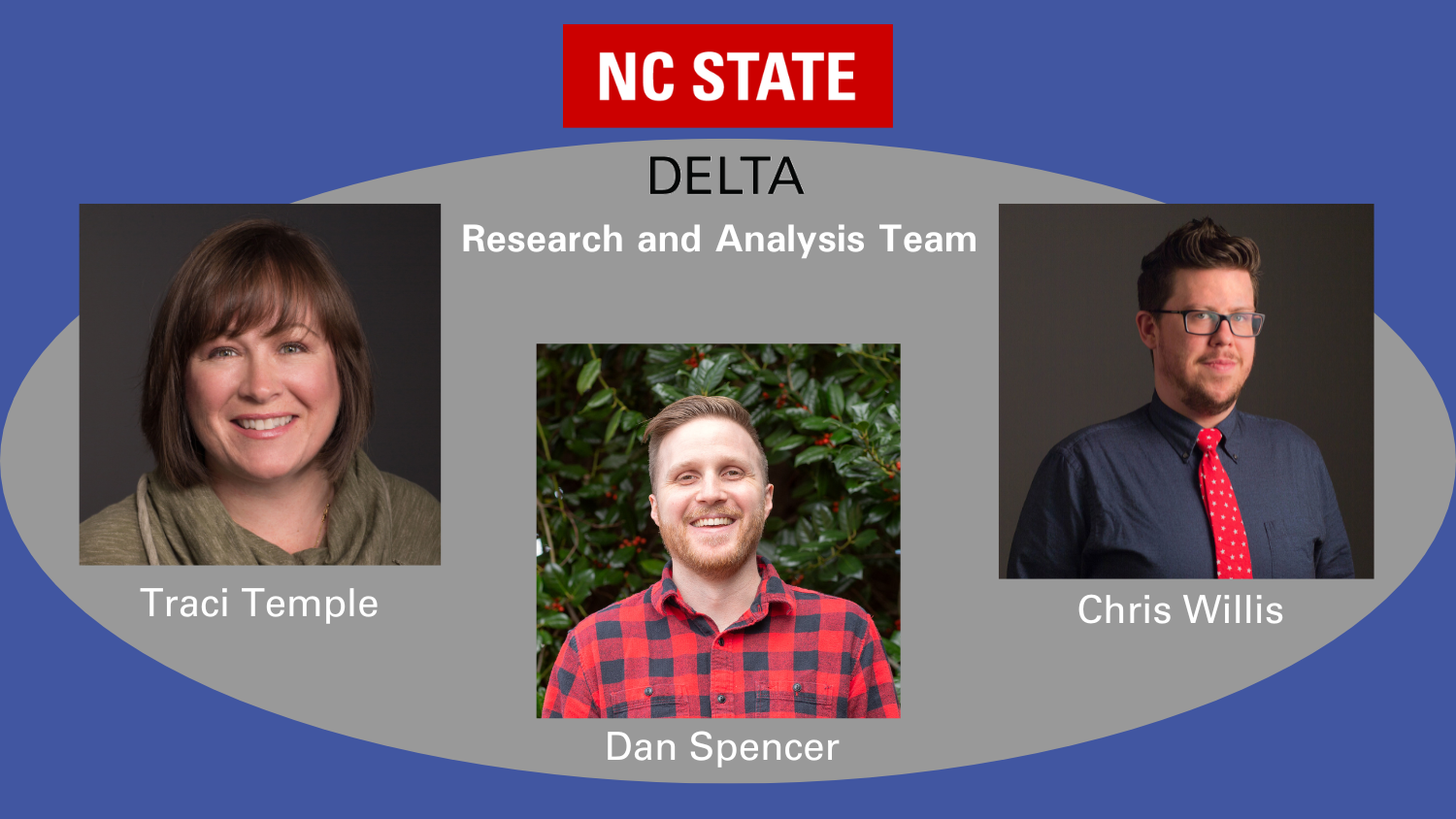 In July 2022, DELTA's department of Planning and Assessment updated its name to Research and Analysis. To discuss the name change and what it means for its future, I recently met with the team's core personnel for a candid discussion. In addition to speaking about the department's name change and its intended implications, the team also agreed to talk about their relationships, future plans, and current projects. We understand that staff are interested in learning more about the happenings of different departments and working groups within DELTA, so this article was designed to let the NC State Community in, to build on and further initiatives for inclusiveness. As such, the answers given, though edited for clarity, have retained some of their informality, so the reader has a greater sense of familiarity with the team's style and manner. 
Would you please introduce your role in Research and Analysis? 
Research Scholar Dan Spencer: "My role on the team is to promote research best practices and help DELTA colleagues engage in research, usually stemming from our DELTA Grant work, as well as conducting independent research to help DELTA reach its strategic goals."
Assistant Director of DELTA Research and Analysis Chris Willis: "I lead the evaluation for DELTA Grants where I provide evidence of the efficacy and impact of new course technologies or course (re)designs. I also assist with the DELTA Research Program where I can. 'And, all other duties as assigned.'"
Director for DELTA Research and Analysis Traci Temple: "I primarily work on DELTA unit assessments for understanding DELTA's impact on student success, SACSCOC (Southern Association of Colleges and Schools Commission on Colleges) accreditation by collaborating with our DELTA colleagues and connecting with NC State's Office of Academic Assessment and other units across campus. In addition to administrative work, I lead the strategic direction of the team, support Chris and Dan with their work and with their professional development and help with the strategic direction of our team and DELTA. We have a team approach in the Research and Analysis department. As a team we determine strategies, processes, and so on, in order to be most effective for DELTA and the university."
Can you share a little about the team dynamic?
Dan: "I feel properly comfortable saying that Traci is a mentor for me and Chris. She's been very supportive of our careers and of helping us grow our goals, and pushing us to think about what we can really do to make an impact. I feel she's helped us create an environment where we can be honest with each other, and we're more understanding of each other because of it. Like any team, we're not perfect. But, I feel like that's a big effort from Traci as a leader to promote that understanding of others and taking a step back to really think about how we interact with each other, and how we can benefit each other. So it's not a competition."
Traci: "I don't like competition in the workplace. We're all here to help students do well. Chris and Dan deserve the credit for growing research, assessment, and analysis. My role is to give them the space to do the amazing work they do and to think ahead to what's next for the team to support DELTA." 
Chris: "Traci's created an environment from day one of being able to just be who you are, for Dan and I both, and that includes the jokes and the humor. It includes our perspective on a project, or what's going on in DELTA, or what we want to do in the future. The ability to just be yourself and be relaxed and contribute what you want to contribute; or even being able to acknowledge, 'hey, it's been an off day." Life happened today, kind of thing. And, just being able to express that kind of stuff has been really helpful. Probably the first job I've ever had like that."
Traci: "We support each other. I wholeheartedly believe that everyone should be their authentic selves."
Chris: "There's been disagreements. There's been, you know, sort of not taking the time to listen to each other, but generally we're able to step back and one of us is able to have that level head, 'all right, let's approach this differently.'" 
Traci: "And it comes from everybody. It's not just from me, it's from Chris, 'Well let's think about it this way,' or Dan, 'I kind of interpret it like this.' Sometimes ideas are completely different from what I initially imagined. I believe it's important to see things from different perspectives. It makes the team better and stronger." 
Chris: "What's really cool to me is that you can see Dan and my influence together in something like Yan Shen's Roadmap Project because it has items that Yan and I built together. Not just the survey items asking students about the course and its design but also the motivational and self-regulated learning aspect that Dan brought in. Now it's part of Moodle and you can use the Roadmap feature and build things out. The underlying survey questions are optional but at least the tool is there to use. I think it's really cool that it came together like that."
The group recently changed its name from Planning and Assessment to Research and Analysis. Why now and what does the change in title signify in terms of definition or focus?
Dan: "The name change coincides with a transitional period for DELTA. We took a hard look at the organizational shifts to think about how we fit in, asking ourselves, 'What do we do for the other units and what does our work describe?' So, the timing seemed natural and really something that's coming from top down in terms of encouraging us to reflect on how we serve DELTA and the wider university."
Traci: "Assessment has a negative connotation in some situations. Not in the sense that it's bad, but that it can sometimes be seen as added work for faculty and staff. Or, it is a way of passing judgment on a faculty member's teaching. That's not what we're doing. By focusing more on the analysis piece we're hoping to convey to our colleagues that there isactionable data to be used for reflection and improvement. This is about continuous improvement. We're identifying successes and areas that can be improved so what we learn can inform future projects that are underway at DELTA."
Chris: "For me, if we're talking about the old name, it was too limiting. Planning is a small part of what we do but at the same time it's something that over the years, and the changes that DELTA has gone through, all units are involved in. And as for assessment, there's that negative connotation. But for me, it's also limiting, because people have an idea of what it is, rightly or wrongly. And, it is something that doesn't describe the breadth of what we do, could do, or have been doing. So, the change helps put it under a bit of a wider, more apt, umbrella."
What are the team's goals moving forward?
Traci: "We need to grow the team to keep up with the work that we're doing. Together, we are successfully communicating a positive view of assessment. Our approach has people looking at assessment differently. We are proponents for the concept of "continuous improvement." We're working with our colleagues, getting the word out about the benefits of assessment and we've been successful. Our colleagues see the value of reflecting on processes and projects and, as a result, there is more demand for our help and which translates into more work. We need to grow our team to be able to keep up."
Chris: "We want to reach more teams in DELTA. We want to build partnerships. Like with the MVP [minimum viable product] starting this year. We're trying to get data from all our grants but there's only so much one person can do on that by themselves. Especially since it seems like once the door is open folks are like, 'I want to get on that. If you're going to be there for my support, I want to see what we can get.' But for me, another one of our big goals is pursuing collaborations across campus. We've been talking with other offices, the survey office, Dan's been working with OFE [Office of Faculty Excellence], and so, having those partnerships. Reaching out and making connections is something we'd like to do more of."
Dan: "From my perspective, what we're talking about is three things. 1. Increasing the comfort level in conducting assessments among colleagues and DELTA collaborators. 2. Increasing inter-unit and outside of DELTA collaboration. 3. Increasing recognition for the work that DELTA does outside of our institution in academic settings such as conferences and publications. We're striving for ways to keep talking about our work so important conversations don't end at the conclusion of a redesign cycle. We want to make sure the work grows from there. I think continuous improvement is where we're moving and that starts with us helping people feel more comfortable using assessment data, sharing it and discussing it."
In conclusion, can you share a few of your most impactful projects?
Chris: "My two are probably the DELTA Grants (MVP) and the outreach we're doing. MVP for trying to get data from all the grants, but I think the more important one is engaging more people in the evaluation process. People are just now starting to ask questions and we're having this conversation. It's a ton of work but it's been great. And, seeing where that goes in the future will be exciting. Another one I think is the one that you [Paul Couture] and I have been working on, the Wicked Problems, Wolfpack Solutions surveys. Taking that evaluation to the next level— to a better level, really— giving incoming students a good taste of what it's like to be an NC State student. And, asking their opinion to be an engaged part of the community." 
Dan: "I am proud of the work we've been able to do in supporting faculty and colleagues to share their work with wider audiences. Overall, I think in the past three years or so, we've been able to take part in 13 projects presented at a conference or published in a journal. I am also excited about my work with Caranda Shubrick, Research Specialist on the R&A team, and Rebecca Sanchez, Senior Instructional Designer, Digital Learning Team are doing related to Diversity, Equity and Inclusion. When we were searching the literature, we realized that there is a lot of knowledge on inclusivity in the classroom that is not easily available to those teaching on campus. So, we decided to create a WolfSNAPs course that provides practical advice and resources. Our hope, ultimately, is that it helps faculty and staff think more about how DEI teaching can be used in their own classroom. The most exciting next step for this project is our potential collaboration with the Office for Institutional Equity and Diversity and Office of Faculty Excellence."
Traci: "I don't have a specific project in mind. I'm proud of the team and this includes Paul. Together, we have a can-do mindset. Our personalities and unique skill sets are a good combination for making a strong research and analysis team, which is why the new team's name best represents who we are. Most importantly, we care about each other professionally and personally."
From the author
As a postscript, I'd like to thank Traci, Chris and Dan for giving me the opportunity to interview them about the name change and their work. More, though, I'd like to say thank you for allowing me to let the reader take a behind-the-scenes look at who you are personally and collectively. DELTA (rightly) prides itself on the high-quality of its people, and Research and Analysis is no different. With every project, we ask how we can improve on what we did before to better support faculty or to advocate for students. The reason for that commitment becomes practicable largely due to Traci's model and the searching, progressive, collective spirit within the group. My goal was to create awareness of our group, its work and the culture that cultivates it. I sincerely hope we've done that. Merci.