Inspiration and Goals Led Graduate to Complete Her Bachelor's Degree Online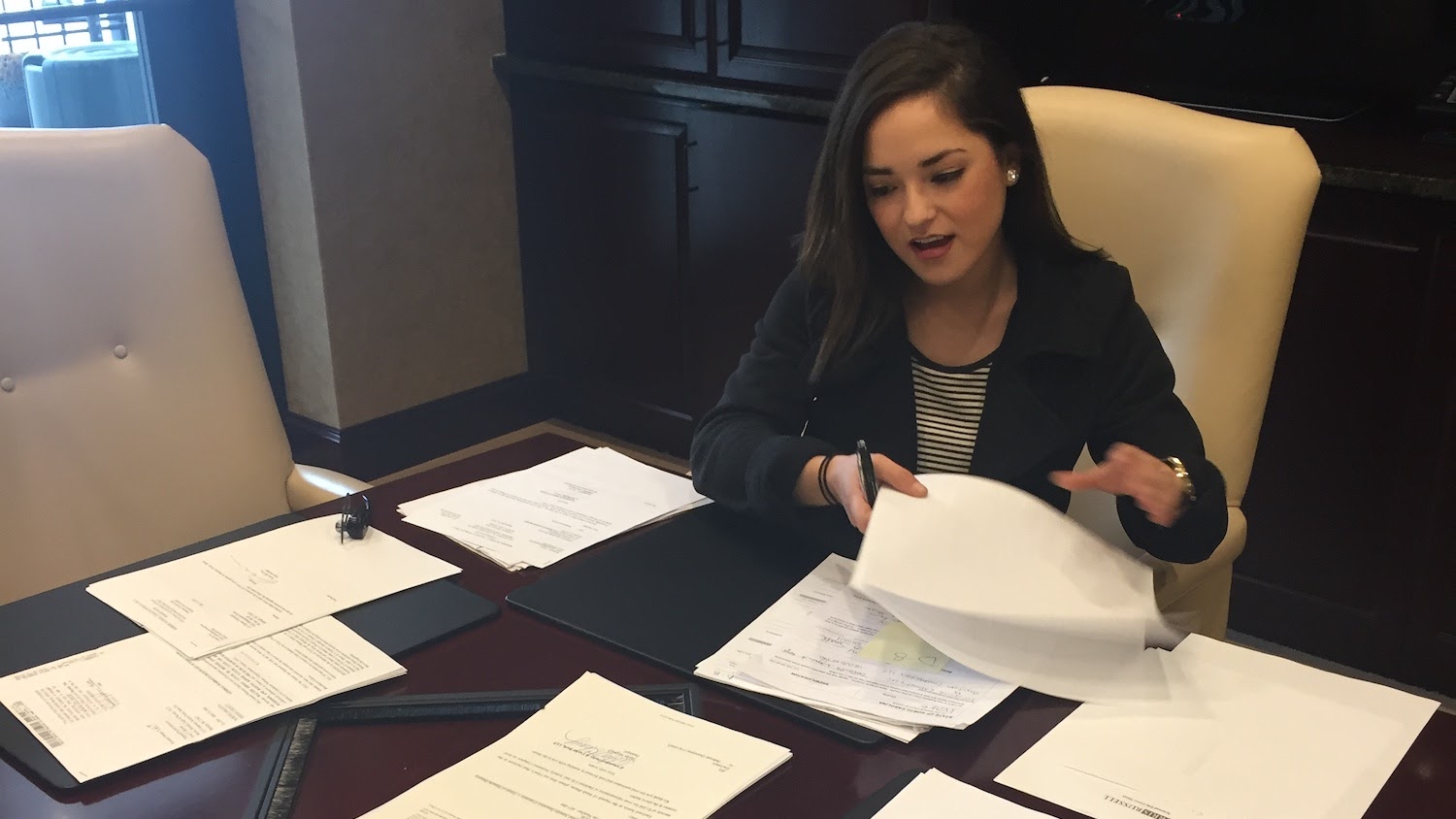 "How do you go from where you are to where you want to be? You have to have an enthusiasm for life. You have to have a dream, a goal. And you have to be willing to work for it". — Jim Valvano
The quotation from beloved NC State men's basketball coach Jim Valvano inspired Jessica Del Toro to go after her education to reach her career goals.
In her position as a legal assistant at Longleaf Law Partners in Raleigh, Del Toro is behind the scenes of closing deals and must be accurate and organized. She was previously enrolled in a business administration program.
She requested a meeting via email with Town of Cary Mayor Harold Weinbrecht with low expectations of hearing back. He responded, and she says that meeting made a huge difference in her life. 
"I've always had a strong interest in politics and public policy, but I never knew how I could use my interests to make a decent (and honest) living," she says. Bouncing around ideas with him truly changed her direction.
After that meeting with Weinbrecht, Del Toro transferred into the Leadership in the Public Sector bachelor's degree completion program at NC State when she learned it was online. 
She says she realized "All it takes is one cause that you really care about to put yourself out there and make a difference. As much as I enjoy the chaos behind closing deals, I'd like to one day open a non-profit dance studio for underprivileged kids."
Del Toro graduated with a bachelor's degree from the Leadership in the Public Sector online degree-completion program in May.
We caught up with Del Toro to learn more about her experience in the College of Humanities and Social Sciences degree-completion program and congratulate our #NCStateOnline spring 2020 graduates! 
Why did you pursue a Leadership in the Public Sector (LPS) degree from NC State Online? 
Working full-time, I knew my options were limited, but I remained optimistic. Sure enough, I did the research and discovered NC State not only offered an online degree program, but the program could provide me with a general understanding of the tools and skills needed to succeed as a leader.
Describe your experience in the LPS program.
My experience in the LPS program has been valuable in many avenues of my life. Prior to taking this course, I did not consider myself leader material. There are many inspirational, charismatic, and articulate leaders who have made profound impacts in this world. I never considered myself capable of having the same effect on people. However, I was reassured that leaders are created from experience, failure, persistence, and hope. Their experience and skills are shaped over time, and because everyone experiences different environments and circumstances, all leaders are different.
I found most of the required activities throughout the program to be profoundly beneficial. For example, interviewing a successful leader in the public or non-profit sector reunited me with Mayor Weinbrecht. He was a main factor that contributed my transfer from Peace to NC State. I was excited to share with him my plans, demonstrate that I took his advice to heart, and further learn more about his leadership experience and style.
Another memorable experience was volunteering at JusticeMatters for my service-learning project. Students were asked to select an organization to volunteer with to gain insights into the needs and operations of nonprofit organizations while performing valuable services to the community. For one week, I used my lunch hour to volunteer at JusticeMatters, a Durham-based nonprofit legal service provider. I had the honor of volunteering in the Raleigh location under the supervision of Katie Moye, a senior family law attorney. At the time, this particular location was no more than two months old, therefore many challenges were identified and discussed. During my time with JusticeMatters, I gained a deep appreciation for nonprofits. Many businesses face challenges similar to the ones JusticeMatters has come across. However, their ability to align their mission, methods, and resources has moved them beyond charity to systemic change.
How did you balance working and completing your degree?
I balanced working and completing my degree by setting practical goals, always sticking to a schedule, reviewing every syllabus the first day of class to get an overview of weeks which I should expect to be busy, and only taking on what I could handle. I also deactivated my social media accounts temporarily. This may be a bit much for some people, but knowing myself, I knew it would be tempting and I could easily scroll on Facebook for hours.
How do you see your LPS degree helping you in your current career?
I definitely think my experience in the LPS program has helped my development in my current career. Once an anxious, quiet, inexperienced, easily intimidated secretary, to now a confident, answer-seeking, diligent legal assistant, I learned to ask for what I want and never be afraid to ask for clarification. I have also had the opportunity to train a new legal secretary with a similar background. When we hired her, the managing partner told me that it was because of me that we were giving her a chance. He said I paved the road for her and acknowledged my transformation. Although initially feeling like a guinea pig, I was honored that they were impressed with my results and trusted me in ensuring that I would provide the new secretary with the tools and guidance she needed to advance.
What is your advice for other working professionals who are thinking about continuing their bachelor's education or are currently enrolled? 
Don't be afraid of the time it may take you. When I first decided to go back to school in 2014, I thought I would be finished in two years. Five years later I've transferred majors, schools, and it took me a little longer than I thought, but I got way more out of it. Don't rush. Only take on as much as you can handle and only turn in work you're proud to have your name on. I would absolutely encourage others to take an online program, even if they are not working professionals. COVID-19 came as a surprise to everyone. I felt a bit ahead of the world with my online experience. Additionally, you learn different methods of effective communication, teamwork, discipline, and time management.
Do you have plans to celebrate your graduation during this time of social distancing?
My coworkers have been very supportive of my education. Whenever I had to leave work early to take an exam, the attorneys would shout out "good luck" and "you're going to do great." We will definitely have to schedule a celebratory Zoom session! Other than this, I really look forward to sleeping more and finally finishing Game of Thrones!
Congratulations to Jessica and the rest of the spring 2020 graduating class! 
Are you interested in advancing your career by earning an online Leadership in the Public Sector bachelor's degree completion program? Visit the program page or online.ncsu.edu for a full list of degree and certificate programs.